Artists in Cannes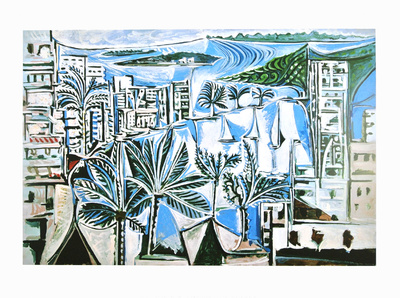 Several artists have had strong links to Cannes over the decades. This list explores artists that have lived in Cannes at some point in their lives and careers. All have left their mark on Cannes in some way and we can discover something of them whenever we visit Cannes. The artists are…


Artists linked to Cannes…
Emmanuel Bellini
Victor Tuby
Odette and Jean-Gabriel Domergue
Pablo Picasso
---
Emmanuel Bellini
(1904 – 1989)
Born in Monaco, Bellini was an apprentice for architect Charles Damas in Nice. He became a poster artist for local events in Monaco and Cannes. He also created large, public murals and sets for French theatre and opera productions. His work can be found in both in Europe and the USA.

Bellini Chapel and Parc Fiorentina
67 bis, Avenue de Vallauris, Cannes
open weekdays 2-5pm
free admission
A baroque Italian chapel, built in 1880 for a Serbian princess, became the studio of Emmanuel Bellini. The chapel now exhibits the art of Bellini. His artist daughter Lucette Bellini will show you around the chapel, museum and the art on display.

---
Victor Tuby
(1888-1945)
The sculptor, artist, poet, humanist and biologist was born in Cannes. He is buried at Cimetière du Grand-Jas, 205 Avenue de Grasse, Cannes. Tuby was born on 8 June 1888 in La Bocca area and died on Christmas Day, 1945. He studied at École des Beaux-Arts in Paris from 1904 to 1912 and went on to establish the Provençal Academy. Tuby was a great promoter of the local culture and language.

Musée Victor Tuby
Le Moulin de Forville
17 Rue Forville, Cannes
Mondays 3-5.30pm
and first Saturday of every month 2-6pm
Victor Tuby's house is now a museum to local design with costumes and locally-produced artifacts. The house was bequeathed to the people of Cannes by his widow in 1973 and became a local museum in 1993.

A street in Cannes is also named after the artist, Boulevard Victor Tuby.

---
Odette and Jean-Gabriel Domergue
Married couple Odette Maugendre-Villere and Jean-Gabriel were both successful artists. Jean-Gabriel Domergue was born in Bordeaux (1889-1962). He was a distant cousin of Henri de Toulouse Lautrec.
The artist became known for his landscape paintings but changed course in the 1920s to create his extensive Parisian Lady series – a type of sophisticated pin-up. He also designed fashion items for Paul Poiret and Henry Marque and held fabulous parties. Domergue designed posters in the early years of the film festival at Cannes. He is also buried at the Cimetière du Grand-Jas.
Odette Domergue (née Maugendre-Villere) (1884 – 1973) is buried alongside her husband.

Villa Domergue
Villa Vera, Av. de Vallauris
Open Tuesday-Saturday 3-7pm
Also known as Villa Fiesole, it was bequeathed to the city of Cannes in 1973 by Odette, it is now a museum to the couple. The house and grounds were designed by Jean-Gabriel and built around 1930. Examples of Odette's sculptures can be found in the beautiful garden. Every May the villa entertains the film festival jury.

---
Pablo Picasso
(1881-1973)
Picasso was no stranger to the Cote d'Azur and actually settled in Cannes in 1955-1961. His studio in Cannes was named La Villa California aka Pavillon de Flore. It is now a private residence. It was built in 1920 in a 19th Cenury style with stunning sea views. It was, famously, the setting for a high-profile and well-photographed meeting between a young Brigitte Bardot and a mature Picasso during the film festival of 1956. The Picasso Museum can be found in nearby Antibes (take the train for a day trip).

---