Architecture tour, Edinburgh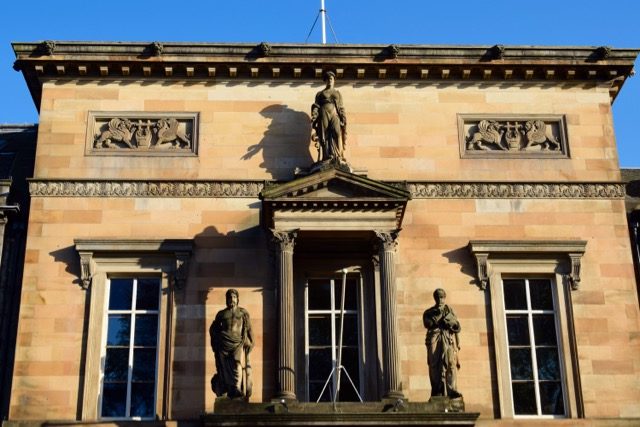 Take a tour of architecture in Edinburgh. Highlights from Cobble Tales New Town architecture tour of Edinburgh.
Edinburgh's iconic Old Town and New Town cityscapes were awarded UNESCO World Heritage Site status in 1995 and attract both architecture and history fans to its streets to explore its significant, contrasting and well-preserved architecture. Come with me as I venture on an architectural walking tour of Edinburgh with our expert guide at Cobble Tales.
Cobble Tales tours of Edinburgh
Our tour guide for the evening is Olga, an architect and tutor, who gives inspiring and revelatory architecture tours around Edinburgh's Old Town and New Town. Private group tours can last anything from 1.5 hours up to 6 hours. I took part in the New Town tour which takes in 2.5 hours of fascinating history relating to the design and building of the sandstone structures of the late 18th and early 19th centuries. The impressive neoclassical designs presented Edinburgh as an aspirational and flourishing city that impressed the world.

The tour takes a bespoke approach to suit each group accordingly – questions and discussions are welcomed with enthusiasm. Olga regularly shows us plans of the original design and drawings of the area before the New Town existed as well as the original illustrated plans for the New Town design.

---
Starting on Princes Street in front of General Register House, Olga explains some of the design features of one of the first constructed buildings of the New Town. The neoclassical approach to design gave Edinburgh the nickname of Athens of the North. In 1767, work began to build the New Town to expand the city from the confines of the Old Town.

---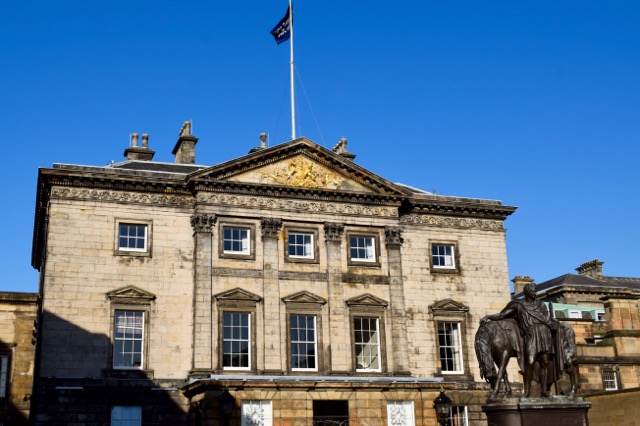 Next stop is Dundas House in St Andrew Square where the Royal Bank of Scotland branch is still based.
---

After a few stops along the way, we go to Thistle Street to seek out the oldest semi-detached buildings in the UK. They are surprisingly hidden away behind modern office blocks and tucked into an unassuming courtyard off Thistle Street. They were the first built structures of the New Town but were built using the conventions of Old Town planning: facing each other; gable ends facing the street; using rubble rather than the uniformly polished sandstone.
---

We move on to 9 Queen Street, to the well-preserved buildings of Royal College of Physicians designed by Thomas Hamilton in the neoclassical style in 1846. It features three appropriate Greek gods: Aesculapius, Hygieia and Hypocrates. Next door (no. 8) was designed by Robert Adam in 1771. Crossing the street, we visit the private Queen Street Gardens, once frequented by Robert Louis Stevenson, for a visit to an intriguing Greek-inspired feature. Find out more when you go on this tour.

---
---
Next to the gardens, Heriot Row, a terrace built in the early 1800s, is a particularly palatial style of facade built for maximum grandeur and some great examples of the New Town design. We learn how the sandstone used in the regulation building style was from nearby Craigleith quarry, a dangerous job for the quarry workers of the time.
---

We head westwards to Hill Street to look at the oldest masonic lodge in the world, designed by architect George Angus in the 1820s, which used to be in St Mary's Chapel in the Old Town and demolished to build the South Bridge. It is now known as Hill Street Theatre and is the oldest continuously running Fringe Festival venue.

---
We then make a few stops along Castle Street and George Street to examine some well-preserved neoclassical features on facades and doorways.

---
---
After a fascinating 2.5 hours, we finish at Charlotte Square and Bute House designed by Robert Adam in 1791 and completed after his death a year later. It is now the First Minister of Scotland's official residence. It's fabulously embellished with grand details and motifs – original lamp lights and decorative ironwork.

---
Find out more about Cobble Tales at their official website where you can find out how to book a tour. Also take a look at the Facebook page here. Cobble Tales offers personalised, small group architecture tours of Edinburgh's Old Town, New Town and Dean Village. The tours are perfect for anyone from architecture groups to curious visitors who want to learn more about the amazing architecture of New Town Edinburgh.

---