Wisława Szymborska in Kraków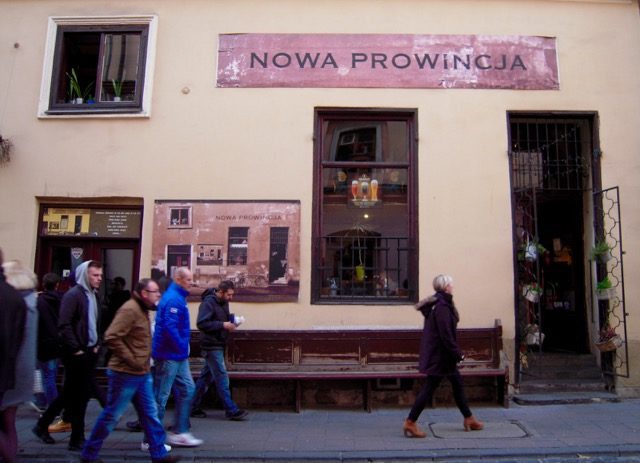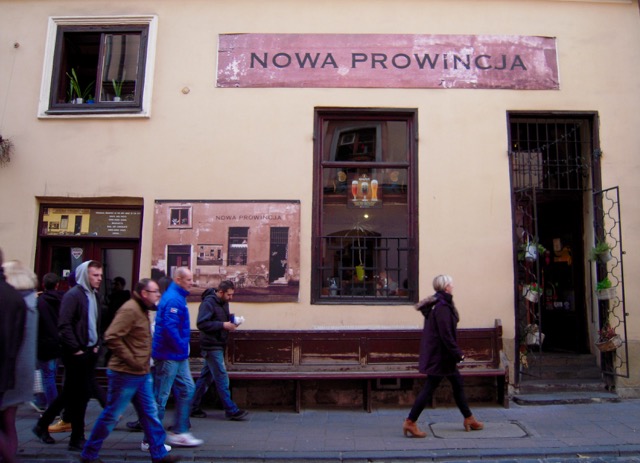 On a trip to Krakow last year, I was excited to obsessively follow in every footstep I could find of one of my favourite poets…



Wisława Szymborska lived in Kraków for most of her 88 years. Time constraints and a dodgy camera on its last legs ensured that I didn't quite reach all of them or get some great photos – but it was an honour and pleasure to visit the beautiful city of Kraków and feel the spirit of Szymborska in the sensory poetry of the ordinary and the everyday. Perhaps this is just as she would have wanted.



Born in 1923 in Kórnik near Poznań, Poland, Szymborska moves with her family to Kraków in 1929 living in a townhouse on ul. Radziwiłłowska 29. She begins to study Polish Literature and Sociology at the local Jagiellonian University. Her first published poem, Looking For A Word is published in the Kraków newspaper Dziennik Polski (Polish Daily) in 1945 and her first collection of poetry comes after in 1952.

---


She marries poet Adam Włodek in 1948 and they move into an attic room in 'The House of Writers' at ul. Krupnicza 22, a collective lodging for Kraków's writers set up after the war. Later they move to a bigger apartment on the first floor. The marriage lasts six years but they remain good friends until his death in 1986 (she stayed at the same building until 1963).



In 1963 she moves to a studio apartment on the corner of ul. Królewska 82 and ul. Nowowiejska. It is so small, she refers to it as 'the drawer' and has special furniture made – commissioned by artist Stefan Papp.



From 1953 to 1966 she is poetry co-editor and then columnist at Zycie Literackie (Literary Life), a weekly literary journal based in the city. By the late sixties she is with her long term partner and trusted companion, the writer Kornel Filipowicz (who died in 1990).



In 1981 her poetry collection Sounds, Feelings, Thoughts: Seventy Poems is first translated into English by Princeton University Press and a year later, she moves to an 4th floor apartment at ul. Chocimska 19.



In 1991 she wins the Goethe Prize and later, in 1996, wins the Nobel Prize in Literature. In 1997, she moves to a modern apartment in ul. Piastowska 46 and in 1998 is made an Honorary Citizen of the City of Kraków.


---
The Szolayski Townhouse (Kamienica Szołayskich)
Pl. Szczepański 9 , Old Town
This well-preserved building is a branch of the National Museum in Kraków
http://mnk.pl
Open 10:00 – 18:00, Sun 10:00 – 16:00. Closed Mon.



Szymborska's Drawer exhibition
(until 4th February 2018)
A free exhibition of drawings and items from Szymborska's apartment collected after her death. She made lots of collages taken from collected magazines and newspapers and would send them as postcards to friends. The exhibition was organised by the National Museum in Kraków and the Wisława Szymborska Foundation.



See more collages here.



---
"The sorry fact is that we arrive here improvised, and leave without chance to practice,"
— Nothing Twice (poem)
---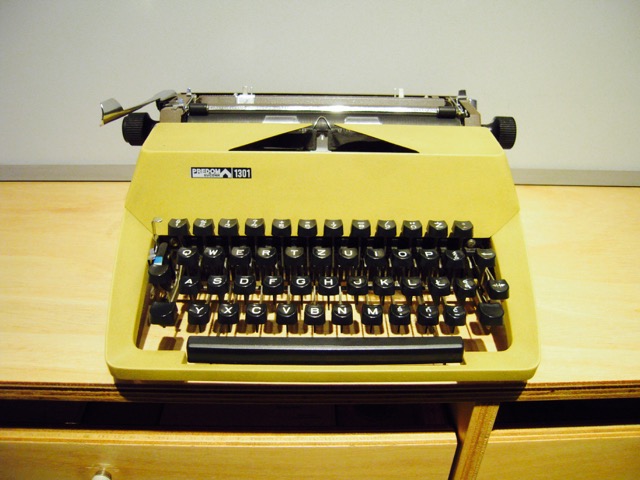 Underneath the typewriter Szymborska used, there are drawers her own apartment filled with items along with some more of the Stefan Papp designed furniture. The drawers are filled with spectacles, passports, cigarette lighters and much more. It is as if her spirit could be conjured up into the room just by looking at her personal items. Most of all, her humanness and the soul of her poetry, making wonderful from the ordinary.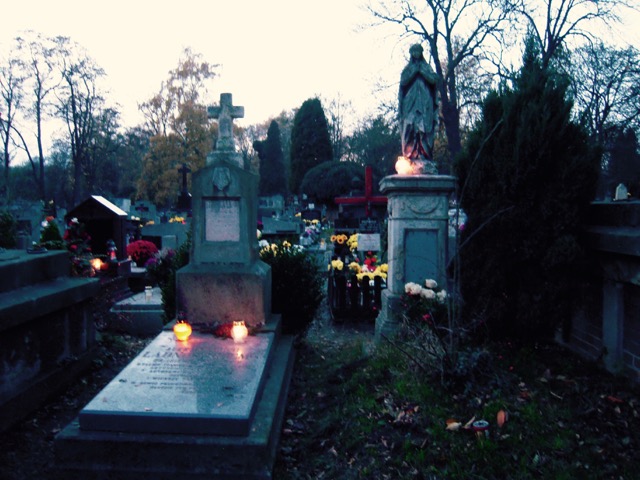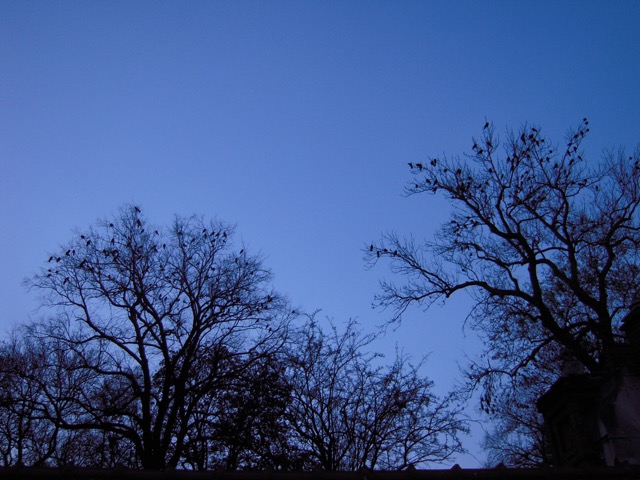 ---
---
Nowa Prowincja
ul. Bracka 3-5
Open
Monday to Thursday 08:00 – 24:00
Friday and Saturday 08:00 – 01:00
Sunday 09:00 – 24:00
(opened in 2000 but evocative of another era entirely)



Although very much a private person, she liked to meet and laugh with close friends in this cafe in her later years. The menu includes specialise in a rich, dark hot chocolate and also a sumptuously rich crème brûlée (I had both which induced a massive sugar rush). There's a cosy upstairs mezzanine with a quirky gallery. Its famous blackboard wall where you can chalk up any thought that takes your fancy. This cafe attracts a creative crowd of artists and writers but welcomes all. There is an intercom near the door which allows you to listen to recordings of Szymborska reading her poems. It is a small cafe and can get very busy.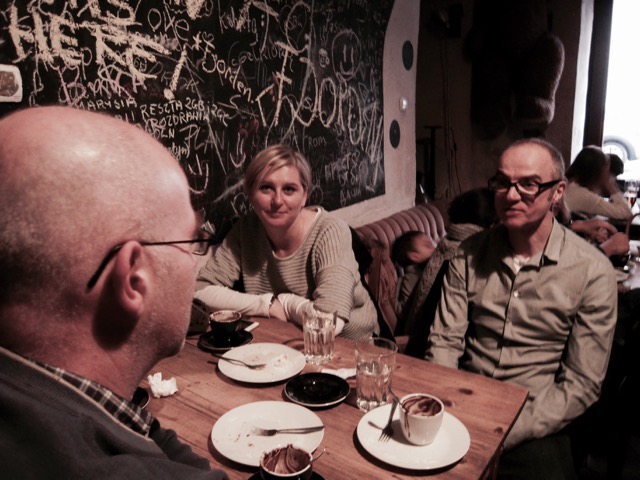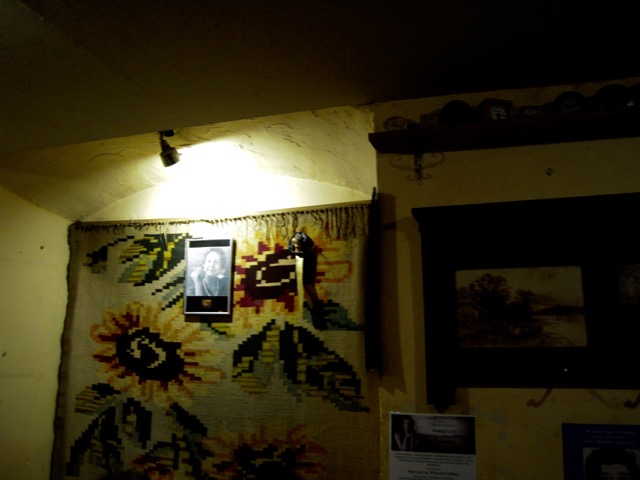 ---
Rakowicki Cemetery
ul. Rakowicka 26
Open 07:00 – 18:00
The largest of Kraków's cemeteries and the final resting place for many important citizens of Kraków, including painter Jan Matejko and musician and poet Marek Grechuta.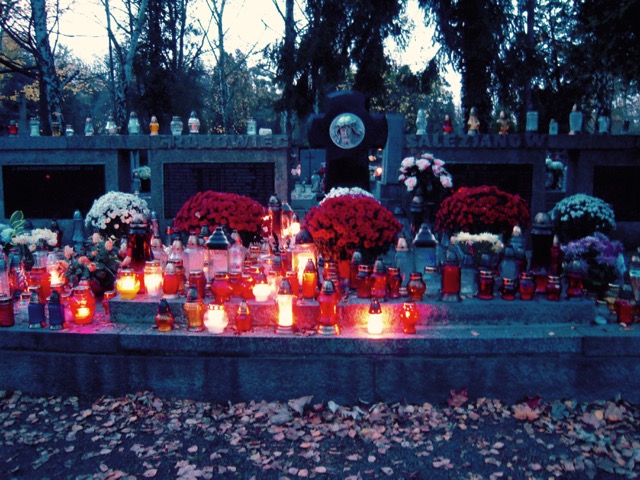 Wisława Szymborska died on 1st February 2012 and was interred in the family tomb in Kraków's Rakowicki Cemetery. I had the privilege of visiting the cemetery just after All Souls' Day. The cemetery was beautiful and lively, overflowing with ethereal lanterns and flickering candlelight as is the Polish tradition at this time of year when families commemorate their deceased loved ones. But dusk was falling quickly, the light was failing and the crows that called me to the gates there had all but gone. I searched and searched in the dark to find her family tomb to take a photo for you and to pay my respects. I was at the right spot but there were several graves overcome with flowers from visitors – the more famous names' graves were piled high with flowers. I could hear Szymborska's laughter getting louder and louder as I searched in vain among the dead, peeking under uncountable numbers of bouquets of flowers and peering into dark corners whilst scrutinising the inscrutable cemetery map I was clutching in the dark. I finally stopped in the pitch dark to pay my respects and thought about one of my favourite poems…


Four In The Morning




---
Read 5 poems by Szymborska
here
A joke from the poet:




---